Word of Mouth
A £50 Thank You from Select Marks & Spencer voucher
Recommend us to a colleague and when they go on to make a booking we'll send you a £50 M&S gift voucher. There's no limit to the number of colleagues you can refer so you have the opportunity to receive multiple vouchers. The party leader who recommends Select will only be eligible for the voucher if they have an existing confirmed booking with Select. The voucher will be sent to the party leader who recommends Select when 1st deposits are received by us from the new teacher and their booking is therefore confirmed. To qualify, the new tour must be a minimum duration of 3 days, 2 nights and be a minimum of 30 paying passengers. The offer applies across Select School Tours, Chateau du Baffy and Select School Skiing trips.
Repeat Booker Discount
Receive a £5 per paying person loyalty discount off your next booking with Select!
To qualify for the Repeat Booker Discount you must confirm a booking that will depart within two years of your previous booking departure date. To qualify, tours must be a minimum duration of 3 days, 2 nights and be a minimum of 30 paying passengers and the trip must have the same Party Leader as the previous booking, or if a new Party Leader takes over, they must book the same subject trip as the school's previous booking.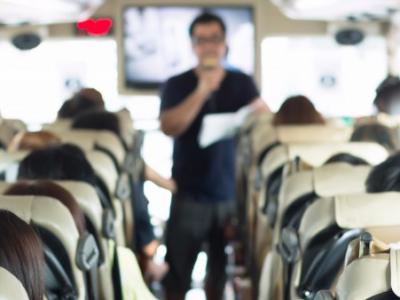 Comprehensive Travel Insurance Included
Select are one of the few operators that includes comprehensive travel insurance in your tour price – keeping your tour cost down with no hidden extras. Book and benefit!
*We reserve the right to change our offers without notice.
Inspection Visit
Take part in our inspection visit taking place from 15th-16th September 2018. £50 per person refundable against trip confirmation. Call us on 01444 870100 for details.