We place the utmost importance on the safety of the groups that travel with us. The Château du Baffy is located in a quiet and safe location in the hamlet of Colombiers-sur-Seulles and has a full Safety Management System in place.
Our commitment to Health and Safety is inherent in everything we do, from our staff work environment and for all of our groups out on tour. We have rigorous procedures in place to ensure consistent standards are achieved and adhered to for all of our travelling guests.
Select School Tours is a member of the School Travel Forum (STF), a group of leading school tour operators who promote good practice and safety in school travel. As a full member of the STF, we adhere to a rigorous Code of Practice and Safety Management Standards which meet the requirement of DCSF guidelines and are externally verified each year by suitably qualified independent Health and Safety Professionals. A copy of our Safety Management System is available to download here.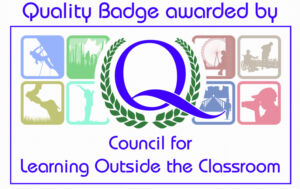 Learning Outside the Classroom (LOtC) Quality Badge
This provides for the first time a national accreditation scheme combining the essential elements of provision – learning and safety. By booking with Select School Tours, you can be assured that we:
• Offer "what it says on the tin"
• Take account of the needs of users
• Have an emphasis on 'learning skills/outcomes'
• Ensure the quality of the learning process; and
• Operate in a healthy and safe environment
For more information please see the CLOtC website.
Financial Security is also a crucial hygiene factor when choosing a tour operator partner, and our affiliations with ABTA (membership number Y6267) and Civil Aviation Authority (ATOL No. 11022) guarantee that, in the unlikely event of insolvency, any monies paid to us by you will be protected. Should this occur whilst your group is on tour, repatriation is also assured.
We understand and operate in accordance with our obligations under The Package Travel and Linked Travel Arrangements Regulations 2018, which as well as spelling out our financial protection requirements, ensures our clients can expect the package that they have booked and paid for.
We have Public liability insurance cover to the value of £10 million, arranged by Touchstone Underwriting Limited.
When you book with Select School Travel, you can be confident that we have all the bases covered, and will do our utmost to ensure a safe and rewarding tour for you and your students.
Château du Baffy address:
Château du Baffy
Colombiers-sur-Seulles
14480 Creully
France