Abbey-aux-Dames – The Woman's Abbey, Caen
Subject/age range: MFL, Cultural, History, RS,
What you'll experience:
The abbey was founded around 1060 by Matilda of Flanders and has an interesting history including accommodating girls from the Norman aristocracy until the French Revolution, being a barracks, a poorhouse and a hospice. The abbey church is an excellent example of Norman Romanesque art and the body of Queen Matilda rests under a Tournai black marble slab in the chancel.
Select says:
There is much to admire with the rich sculptures and the column capitals are adorned with fantastic animals taken from the bestiary and treasures from the first crusade.
Allow: 1-2 hours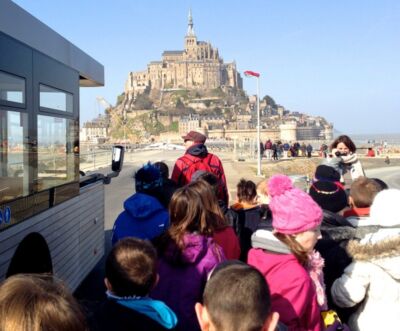 Mont Saint-Michel and Abbey
Subject/age range: MFL, Cultural, History, Geography, RS,
What you'll experience:
Mont St-Michel is in the heart of a great bay that has the highest tides in Europe. After going through the Boulevard Gate and the King's Gate fortified with its portcullis, you will find the main street with museums, shops and houses dating from the 15th and 16th centuries. After admiring the Abbey church, you can enjoy the beautiful view over the bay from the ramparts path.
Select says:
The Abbey was turned into a prison during the days of the French Revolution and Empire, and needed to be restored before the end of the 19th century. You must transfer to the local bus over the causeway as coaches and cars are now restricted. This is due to a regeneration project going on in the area currently – more information is available at the visitors centre near the car park before you go over the causeway.
Allow: Half a day
Bayeux Cathedral
Subject/age range: MFL, Art, Cultural, History, RS,
What you'll experience:
The cathedral of Notre-Dame in Bayeux is an impressive building with a mix of Romanesque architecture in the 11th century crypt and Gothic in the 13th-century nave. The crypt contains some beautiful murals and the stained-glass windows in the chapel are stunning.
Select says:
Read the diagram on the stairs before you descend into the crypt, as it gives some information about the images below.
Allow: 30 mins