The Château du Baffy sleeps a total of 116. There are two accommodations within the grounds: the main historic Château du Baffy building and the adjacent Villa Mathilde which is situated a mere stone's throw away. Both buildings accommodate a full coach capacity, so groups can enjoy sole-occupancy of their building if they fill a coach and each building benefits from its own dining room and bedrooms.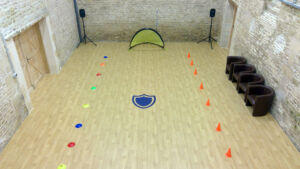 Our school groups feel safe and secure within the private grounds of the Château du Baffy and there is a full Safety Management System in place. The grounds benefit from woodland areas with ancient trees plus a multi-purpose games pitch and lawned gardens. There is also an indoor sports hall with projector and surround sound located adjacent to the chateau within the grounds.
All bedrooms at the Château du Baffy and Villa Mathilde offer en-suite bathrooms and the teachers' bedrooms have tea and coffee making facilities. There is a multi-purpose meeting and cinema room for use which is situated within the Villa Mathilde and a teachers' private lounge with a bar area.
Meals at the chateau are prepared by our renowned in-house chef Thierry and his team, and schools frequently comment on the standard of the food offered being of a consistently high standard compared to alternative school chateaus.
Both accommodations have patio seating areas and the Villa Mathilde area benefits from a barbeque area which can be used as an option for one of your meals in fair weather conditions.