test text. One of the main benefits of choosing our Château du Baffy as a base for your next school trip to France is its fantastic location. The Château du Baffy is on the doorstep of two of the major French trip school excusions of Bayeux and the D-Day Landing beaches (only fifteen minutes drive). The château is also located only ten minutes' drive from the picturesque seaside town of Courselles-sur-Mer with its harbour and sandy beaches. It's the perfect base for groups to enjoy the many excursions and educational experiences on offer in this historical area. As well as being close to numerous excursions, groups benefit from staying in the beautiful countryside of Normandy within a safe and secure hamlet of Colombiers-sur-Seulles.
Most of our schools prefer the shorter ferry or Eurotunnel journey from Dover to Calais. It is then four hours on the coach to the Château du Baffy. The outbound and return journey from port to the Château du Baffy is usually broken up by a coach stop, for example in the beautiful town of Honfleur or a chocolate factory. Travel from other ferry ports is an option depending on your UK location. The Château is 25 minutes from Caen, 1 hour from Le Havre and 1 hour 30 minutes from Cherbourg. Speak to one of our knowledgeable travel advisors who will guide you through the best options for your school group.
As well as its great location, the château offers a high standard of accommodation for school groups in a historic and well-maintained building with plenty of original atmosphere along with modern facilities, such as a sports hall and mini golf circuit.
Due to the age of the building, Wi-Fi is only available in the teacher's lounge, but we think this is an advantage so that your pupils can fully focus on the experiance of a residential trip to France and experience the culture and language without too many distractions.
If you're interested in a trip to the Château du Baffy for your next French trip or general residential trip to France as a cultural experience, then get in touch! We have regional travel advisors who have all been to the Château du Baffy and can advise you on the best excusions and itinerary to suit your needs.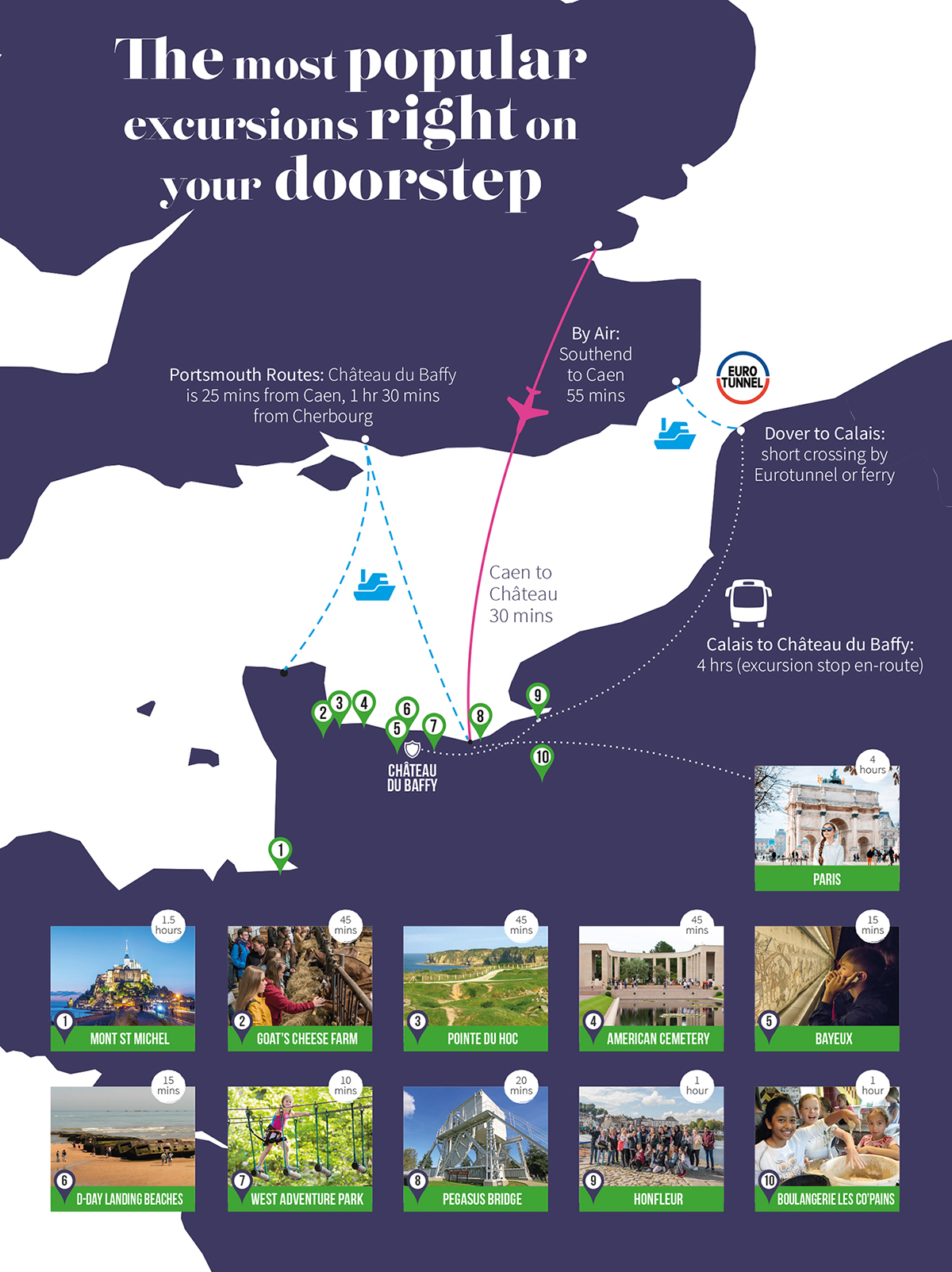 Key Historic places to visit in Normandy If you're looking to explore historic sites in Normandy there's a fantastic selection [...]